The brushless nail drill is the latest innovation in nail care technology. Its design features a brushless motor, which provides superior torque and speed for precise and effortless drilling. The built-in speed control allows you to easily adjust the intensity of your manicure based on your individual needs – perfect for those who are just starting out with their first manicure set. And even more exciting? It's incredibly quiet and vibration-free, making it one of the most comfortable drills available on the market today!
Read on to learn more about this incredible device, and find out why it's changing the game when it comes to nail care. We guarantee you won't be disappointed!
What is a Brushless Nail Drill?
A brushless nail drill is an advanced piece of manicure technology, specifically designed to provide superior torque and speed for precise drilling and filing in the nail care industry. Unlike regular drills which feature internal brushes that can wear out over time, brushless motors are completely maintenance-free and designed to last for years. The brushless design also allows them to operate much more quietly and vibration-free than other drills, making them more comfortable and pleasant to use.
What are the Benefits of a Brushless Nail Drill?
The main benefits of using a brushless nail drill are improved efficiency, accuracy, and comfort. With a brushless motor, you can quickly and accurately drill into hard surfaces with ease, making it perfect for manicure professionals who need to constantly switch between different levels of intensity during their work. What's more, the built-in speed control allows you to easily adjust the power and efficacy of your drills.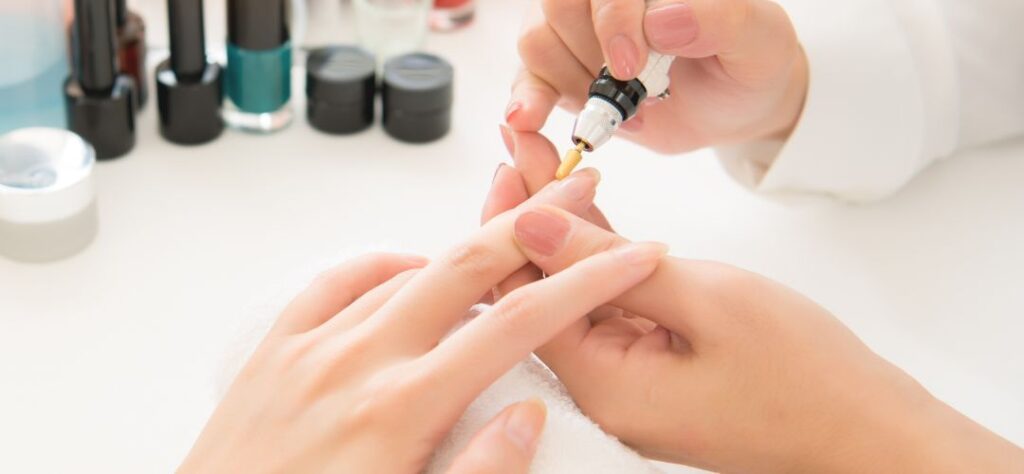 How Does a Brushless Nail Drill Work?
An electric motor powers a brushless nail drill, which operates without any brushes or other moving parts. Magnets and coils create magnetic fields that rotate the armature at high speeds when electricity is supplied. As these rotating arms move, they cause the drill bit to spin.
What are the Different Types of Brushless Nail Drills?
There are a few different types of brushless nail drills available on the market today, all designed to meet the needs of their users. Some drills feature cordless designs with rechargeable batteries, while others come with AC adapters for more powerful drilling capabilities. Additionally, some models can be attached to professional manicure tables for more precise control over your manicure routine.
How Should I Maintain my Brushless Nail Drill?
Maintaining your brushless nail drill is very important in order to ensure its longevity and performance over time. Be sure to regularly clean the drill bit with a soft cloth, as this will remove any dust and debris that can build up in the motor over time. Additionally, you should also make sure to lubricate it before each use, as this will help keep its moving parts functioning properly.
What are the Different Accessories Available for Brushless Nail Drills?
There are a variety of different accessories available for brushless nail drills, allowing you to customize your manicure experience. Common attachments include diamond bits and carbide bits, which can be used to sand or polish the nails depending on what type of finish you are looking for. There are also a variety of different speed settings available as well, so you can adjust the drill's intensity accordingly.
What Kinds of Manicures Can I Do With a Brushless Nail Drill?
The possibilities are virtually endless when it comes to the types of manicures that can be completed with a brushless nail drill. From sculpting 3D nails and creating intricate designs to polishing off acrylic nails and applying gels – this tool is perfect for anyone looking to get creative with their manicures. So go ahead, experiment and let your imagination run wild – it's sure to be an experience you won't soon forget!
Is a Brushless Nail Drill Right For Me?
A brushless nail drill is an excellent choice for anyone looking to quickly and easily expand the range of services they can offer their clients. Whether you're a professional manicurist or just someone who loves doing their own nails, this tool will provide you with precision and accuracy that would otherwise be difficult to achieve. Plus, it's designed specifically for use on hard surfaces, making it perfect for even the most challenging manicure projects.
Where Can I Buy a Brushless Nail Drill?
Brushless nail drills are available online at various retailers, as well as in beauty supply stores and specialty shops. Be sure to read customer reviews to find out which model is best suited for your particular needs, and don't forget to check for any discounts or promotions before making your purchase.
How Much Does a Brushless Nail Drill Cost?
The cost of brushless nail drills can vary depending on the model and the features it offers. Generally speaking, you can expect to pay anywhere from $30-$200 for a basic drill, while more advanced models may be priced higher. Ultimately though, the price you pay is well worth it – as this tool will open up a whole new world of manicure possibilities! So if you've been wanting to take your manicure game to the next level, Investing in a quality nail drill is one of the best investments you can make.
Can I Use a Brushless Nail Drill on Artificial Nails?
Yes, you can use a nail drill on artificial nails! In fact, many professionals prefer to use this type of tool when completing acrylics or gels as it is more precise and easier to control than traditional drills. Just be sure to select the right kind of attachment for the job – some materials may require different bits or speeds than others.
Conclusion
brushless nail drill is an essential tool for those who are looking to take their nail artistry to the next level. Not only is it safe, reliable and affordable but it also comes with a range of features that make manicure preparation easier than ever before. So if you're ready to take your at-home creations to the next level – don't hesitate to invest in a brushless nail drill and explore the endless possibilities that it can offer! With the right care and maintenance, you'll be able to enjoy your new tool for many years to come.