Nails with gems, How we do our nails has changed over the years.
While in the past, all one would want is maybe a coat of red nail polish, this has slowly changed. People started exploring other nail polish colors, then came in the nail art.
While that was embraced for a while, it got to a point where people wanted more from their nail art. Nail gems were invented to take nail art to another level. They offer a way for you to express yourself and show who you are through the nails.
Nail gems can be subtle, or they can be loud. Many artists have been known for their expressive nail gems, and that is something that all nail artists work on ensuring they create. The good thing with nail gems is, no one artist will do two people's nails the same. You will always get variety and never have to worry that you will look like everyone around you. If you have been looking for a new way to do your nails or are a nail artist and want to expand your skills, try out nail gems. Here are some of my favorite nail gems and how you can apply them. I have also included the pros and cons of each application method so you can figure out if it is something you want to try out.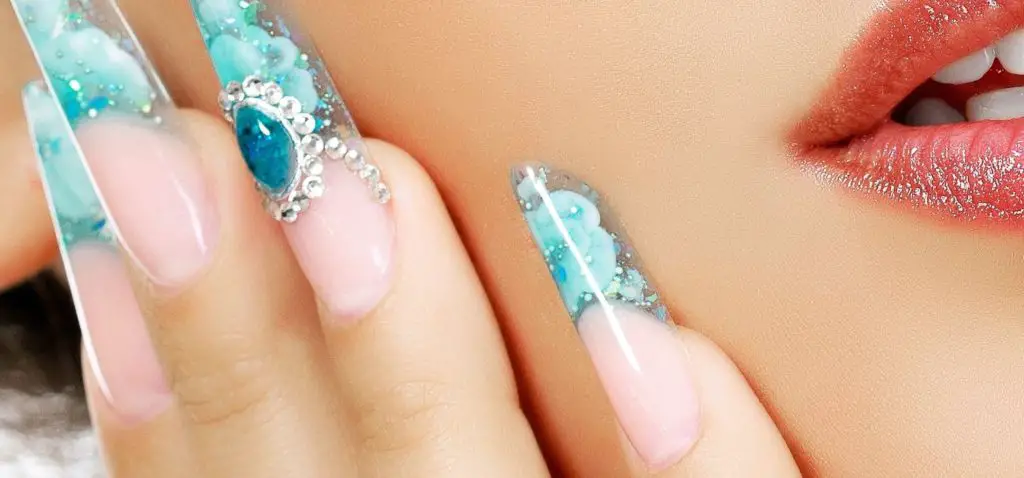 Types of nail gems in the market
Before we get started on the nail gem application, it is important for you to know the different tail gems in the market. It will help you figure out what will work for you or your client. Here are the different gems available and how you can use those to your advantage.
Nail tips
If you are a beginner to nail gems, then these are the best ones you should get. They work just like the usual nail tips, only that they have gems already attached to them. They have a huge variety of gems on offer, and the best thing is, you do not have to worry about correctly placing them on the nail bed. If you can apply nail tips, then you can apply these gems as well.
Sticker gems
With sticker gems, you get these light paper-like gems that you can cut out the sticker sheet they came on and attach to your nails. come with a sticky backside that you use to attach to the nail. They are very light and are perfect for beginners. They are also the perfect gems if you do not want something dramatic or that makes such a bold statement.
Glued gems
If you love loud nails, then glued gems are just what you need. These gems are bigger and have one variety. You have the gems, the crystals, the chains, and all that drama. They are very heavy and need you to have some skill when it comes to them. With these, you might need to practice a little more before you can properly apply them. When they are not applied properly, they come off very fast, which is not a good thing.
How to apply nail gems
Now that we know the different nail gems in the market let us look at how to apply the glued gems. The other two types of nail gems are pretty straightforward and do not need much preparation. With every method, we will also take a look at its pros and cons.
Use nail glue or resin
With this method, you will first need to apply your basecoat. After it dries, add two thin layers of your favorite polish. Using a small brush or toothpick, apply the glue or resin, then add your gem on top of the glue. Hold it firmly for about 30 seconds to ensure that it sticks. Once that is done, apply a topcoat, and you have yourself a gem.
These are the pros of using this method to play your gems
The gems will last longer because they are well secured
This is the main downside of that method
It takes you longer to work on the nails because you need to ensure that they stick to the nail. If you do not hold it, it will come off in days.
The glue dries up faster and will not work if you are very slow.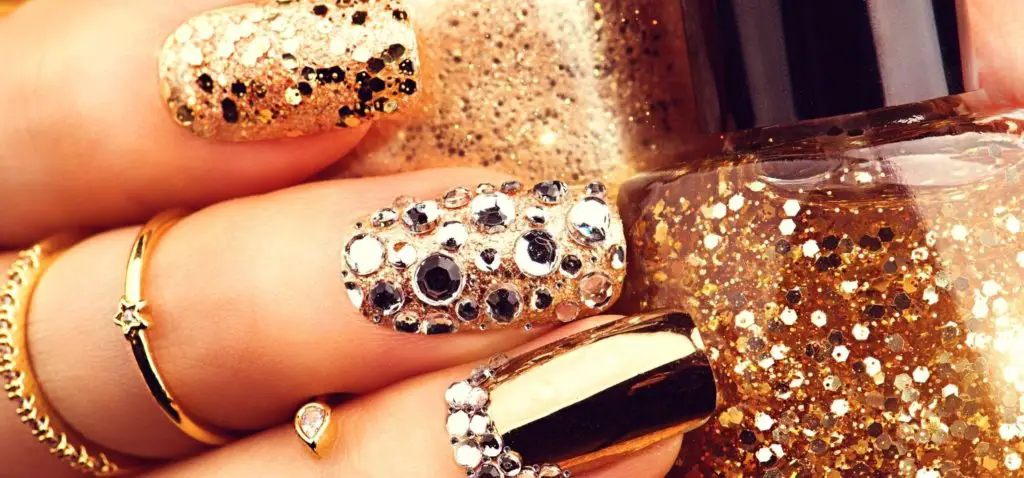 Use a clear base coat
Apply your base coat, then follow it up with two layers of your favorite nail polish. Once that dries, apply a coat of clear topcoat. Before the topcoat dries, add your jewels. You will have to do this fast because the base coat will dry up, and it will not be sticky. Once that is done, apply a second layer of topcoat, and you are done.
The biggest advantage of this method is, you will not spend so much time on the process. The downside to it is, you cannot use it with heavier jewels as they will come off fast.
Gel polish
Another way that people attach these gems is by using gel polish. All you have to do is apply your base coat and cure it. Once it is cured, apply the two layers of gel curing in between. You will then take the gems, add them on the follow them with a topcoat, and cure them. The topcoat will ensure the embellishments stay. Once they cure, you are good to go.
With good, this method is fast and can also allow you to add on heavy gems. The only downside it comes with is gel polish is known to have negative effects on the nails, and that can be annoying.
With all the methods and options above, it is pretty clear that gems are the new way to look cute in your nails. Do not settle for basic nails when you can take them a notch further. Take your time and settle on gems that work for you. It will go a long way to complete your look or style.